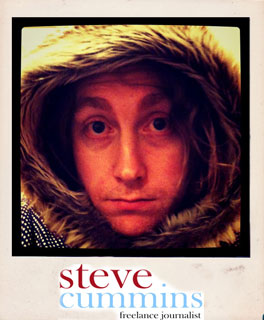 I am a freelance journalist, content designer and editor based in Dublin, Ireland.
If you have a project you'd like me to work on, contact me here.
I mostly write about music, arts and culture, specialising in interviews, reviews and features.
Over the past two decades in journalism, I have also worked as:
News Reporter
Online and Digital Editor
Assistant Sports Editor
Arts and Culture Editor
Online Multi-Media News Reporter
News Sub-Editor
Sports Sub-Editor
Magazine Editor
DIGITAL AND MULTI-MEDIA JOURNALIST
I am multi-media trained and have a strong and diverse range of digital skills.
My skill sets include:
Journalism – reporting, feature writing, critical reviews and interviewing celebrities
Content Design – part writing, part UX and part accessibility discipline for writing user-focussed content for the web
Audio recording and production using Zoom Recorder and Pro Tools
Layout and design skills using InDesign, Photoshop and Illustrator
Create, code and design websites using WordPress, CSS, HTML and Javascript
Communications – for more than 10 years I have worked as Communications Director
JOURNALISM
Amongst many print and online titles my work has appeared in:

The Sunday Times
NME
The Irish Times
Irish Independent
RTÉ
Nylon magazine
Hot Press
Nylon Guys
The Sunday Independent
The Irish Post
CONTENT DESIGN
I'm skilled in this discipline of creating user-focussed content for the web.
As a content designer I have worked on a number of high-profile projects where I have:
led the projects
researched and developed content plans
created content and edited to content design principles
carried out user testing
repeat
INTERACTIVE E-BOOK FOR THE iPAD

Launched Legend of Fionn: The Salmon of Knowledge on the iPad in 2015.
View a promo video for the AppStore app here.
Legend of Fionn:
An interactive e-book for the iPad
You can read it and interact with the various elements on the screen.
It's based on The Salmon of Knowledge, a story from modern mythology.
My role as part of a three-person development team was:
coding the app
bug fixing using the Corona SDK
writer of our slightly darker version of the myth to compliment the aesthetic created by my fellow team member, Rob Hunt.
FIRST FORTNIGHT – COMMUNICATIONS DIRECTOR 

Communications Director for more than 10 years with First Fortnight, an arts-based initiative aimed at challenging mental health prejudice and discrimination.
I offer my time on a voluntary basis and also sit on the charity's Board of Directors.
Our media books regularly came in at in excess of €1million in terms of the advertising spend equivalent for the press I was able to generate.
You can check out First Fortnight here
VIDEO
My skills in video production include:
video editing
camera operation
production
direction
writing and research
I co-produced this short documentary on Dublin's Moore Street. The doc was edited in Adobe Premiere Pro and also used After Effects.
Moore Street — An Uncertain Future
(2011)
Short documentary on the 1916 site on Moore Street in the centre of Dublin.
My contribution was as:
writer
producer
editor
researcher
interviewer
co-director
Made as part of MA in Creative Digital Media (DIT)
The Road — Opening Title Sequence
(2011)
Made using Adobe After Effects and Adobe Premiere Pro overlaying some original footage that I shot, as well as overlays on stills from the movie.
Brief:
Capture the mood of the movie 'The Road'
Ensure sequence dovetails seamlessly into the start of the film, using images, sound and effects
Effects created in this sequence:
rain
rain drops on the camera
sun going down
sun-beams
fog
clouds moving
birds flying across the screen
fire
smoke by the river
All work reproduced on this website is © Steve Cummins.